KOI Music Fest goes back to its roots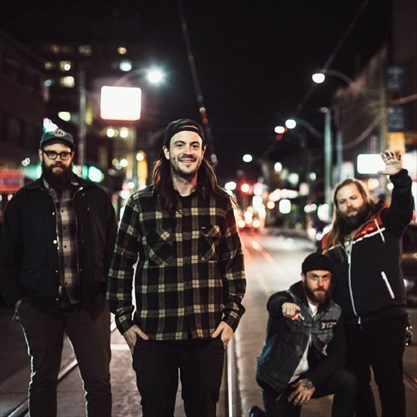 Cancer Bats from Toronto are in the lineup for the KOI Music Fest. – SYSTEM
The number of bands is reduced by a whopping 75 per cent — from more than 100 to 25 — and the once three-day outdoor music festival has been cut by a day and moved inside.
But for the Kitchener Ontario Independent Music Fest (KOI) that has embedded its DNA into the regional and southern Ontario concert scene, it has nothing to do with contraction: it's simply going back to its roots.
"It just makes it more manageable," notes co-founder Curt Crossman, who started this grassroots celebration of indie music in 2010 with his brother Cory.
"We're moving indoors this year, back to our core demographic, and re-focusing on what we built over the first seven years. It's not quantity, it's quality."
Crossman has mixed feelings about last year's high profile pairing — a one-off — with Kitchener's Centre in the Square.
While it attracted big name indie acts like Sam Roberts and The Strumbellas, he says it may have alienated the core fan base who supported the festival since its 2010 inception.
"Reaction to this year's lineup has been really positive so far," he notes, citing a return to the metal, hardcore and punk on which the festival built its reputation.
"A lot of people didn't realize we even had a festival last year. I had a sense it was the smallest attendance ever."
With arch rivals like Toronto's Riot Fest and the Vans Warped Tour keeping their noses out of Canada in a competitive festival market, Crossman says the time is right for reinvention.
"Things were just getting insane for a few years. It got to a point where everything was saturated. No one was going to get to all three festivals.
"A lot of stuff that traditionally competed with us has now sort of disappeared."
This year's pared-down lineup features the usual mix of underground headliners and local acts.
Among them: Cancer Bats (Toronto), Comeback Kid (Winnipeg), Silverstein (Burlington), Stray From The Path (New York), Counterparts (Toronto), Gideon (Tuscaloosa), Kingdoms (Kitchener), Dead Tired (Hamilton) and Ion Dissonance (Montreal).
Also on the roster: Waterloo's Auras, Toronto's Sparrows, Kitchener's Necrocarcass and Two Liner (reunion shows) and London's Heart Attack Kids.
Among local offerings: Bearings, Romancer, The Fatalist, Monarch Woods and Harbour.
The festival runs Friday, Sept. 15, and Saturday, Sept. 16, at Maxwell's Concerts & Events, 35 University Ave. E. in Waterloo.
Tickets go on sale Friday at noon: $35 for Friday shows, $60 for Saturday with a pass for both available for $75.
Go to https://www.ticketscene.ca/events/18481/