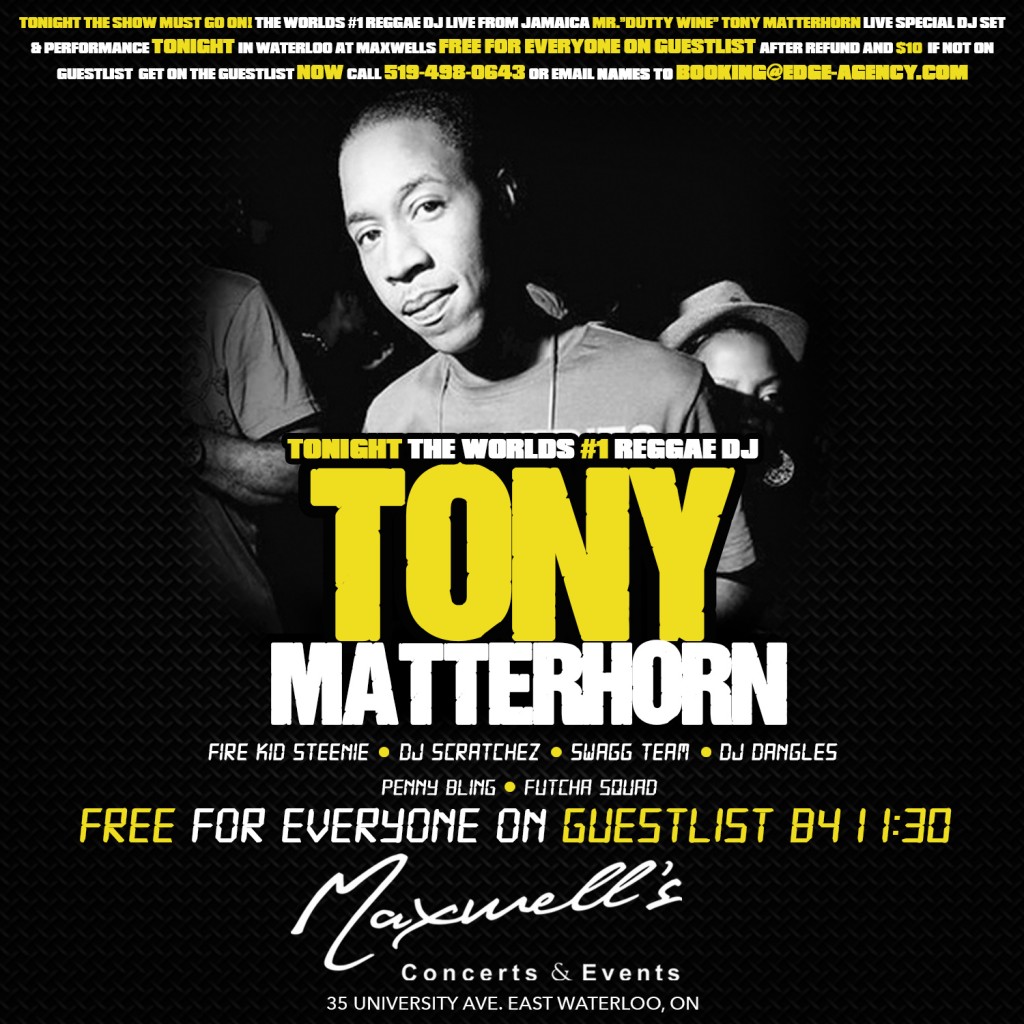 Some Good News & Some Bad News…
The Bad News…
We regret to announce, due to unforeseen circumstance beyond the control of Maxwell's Concerts and Events, Stay Fresh Entertainment & The Edge Agency, the Beenie Man show scheduled for June 13, 2015 has been cancelled until further notice.
Please carefully read below for instructions on obtaining a FULL REFUND for your purchased tickets.
TICKETS PURCHASED ONLINE
Tickets purchased ONLINE thru Maxwell's Concerts and Events and their affiliate ticketscene.ca, will be refunded online. Credit cards will be refunded directly on Saturday, June 13, 2015. There are NO cash refunds for tickets sold online.
PHYSICAL TICKETS PURCHASED THRU Stay Fresh Entertainment & The Edge Agency
Ticket refunds will be issued at your point of purchase.
Please take your ticket back to the person or store you purchased it from to get a FULL refund.
For any questions, concerns or clarification on how to obtain your refund please contact Stay Fresh Entertainment at:
519-498-0643
The Good News…
TONY MATTERHORN LIVE TONIGHT
ALTERNATE EVENT
We at Maxwell's Concerts and Events, Stay Fresh Entertainment & The Edge Agency value your support and would like to sincerely apologize for any inconvenience this may have caused you. We understand that you may have put a great deal of effort into your plans for tonight's event.
We would like to show our appreciation by hosting an alternate event TONIGHT, at Maxwell's, with the World's # 1 Reggae & Dancehall DJ.
**** TONY MATTERHORN ****
EVERYONE WHO PRE-PURCHASED A BEENIE MAN TICKET WILL RECEIVE A FULL REFUND, MAY ENTER TONIGHT'S ALTERNATE EVENT FOR FREE, AND WILL BE ADDED TO THE GUEST LIST.
FOR NON-TICKET HOLDERS, THE COVER IS ONLY $10. JOIN US, FOR THE WORLDS #1 REGGAE DJ, TONY MATTERHORN – COMING LIVE AND DIRECT FROM JAMAICA.
DRINKS SPECIALS ALL NIGHT LONG!
Playing a special DJ set and performing his hit songs, Dutty Wine, Goodas Fi Dem, and more!
Also featuring several top Toronto DJ's – FIRE KID STEENIE, DJ DANGELS & PABO HYPE, PENNY BLING, DJ SCRATCHEZ, FUTCHA SQUAD & MORE!